Amplified Voices: A Conversation and Action Series 
About: Amplified Voices is a graduate student-led initiative in the Department of Psychology at Arizona State University, designed to provide a platform that honors and celebrates BIPOC scholars. Diversity speaker series traditionally reach the short-term goal of providing representation for scholars of color, However, this brief exposure fails to address the deeper political alienation students of color often experience within academia. The Amplified Voices series attempts to address this void by extending beyond mere representation to building community by bookending every guest presentation with opportunities for community preparation and practice. ASU Psychology community members will be provided with speaker-curated resources as a primer for the presentations. To facilitate post-event practice, each presentation will include calls-to-action (CTAs) to activate change. These CTAs will be ongoing calls aimed at addressing areas of growth, particularly as they relate to race relations and other intersectional social justice issues.
Bio: Bryan Dewsbury is an Associate Professor of Biology at the University of Rhode Island. He is the Principal Investigator of the Science Education And Society (SEAS) research program where as a team they blend research on the social context of teaching and learning, faculty development of inclusive practices and programming in the cultivation of equity in education. He is also a Fellow with the John N. Gardner Institute where he assists institutions of higher education to cultivate best practices in inclusive education. He was born and raised in Trinidad and Tobago. He immigrated in 1999 and attended Morehouse College for his Bachelors of Science in Biology after which he attended Florida International University for a Masters and PhD also in Biology. From there he transitioned to URI where his research focuses on inclusion and equity. Among his many publications is his 2019 piece "Deep teaching in a college STEM classroom" (cited below) that recentralizes dialogue as the basis for good teaching. He has conducted faculty development and given plenary addresses on this topic to over 50 institutions of higher education, corporations and K12 institutions across North America.
Description: Science education has for far too long focused on content delivery, even in unique and active ways. Here we discuss the ways in which education should be about more than content, and more about the cultivation of the individual. Using specific examples, we offer ways in which teaching strategies can speak more to the human experience and engender better opportunities for equity within the classroom and beyond.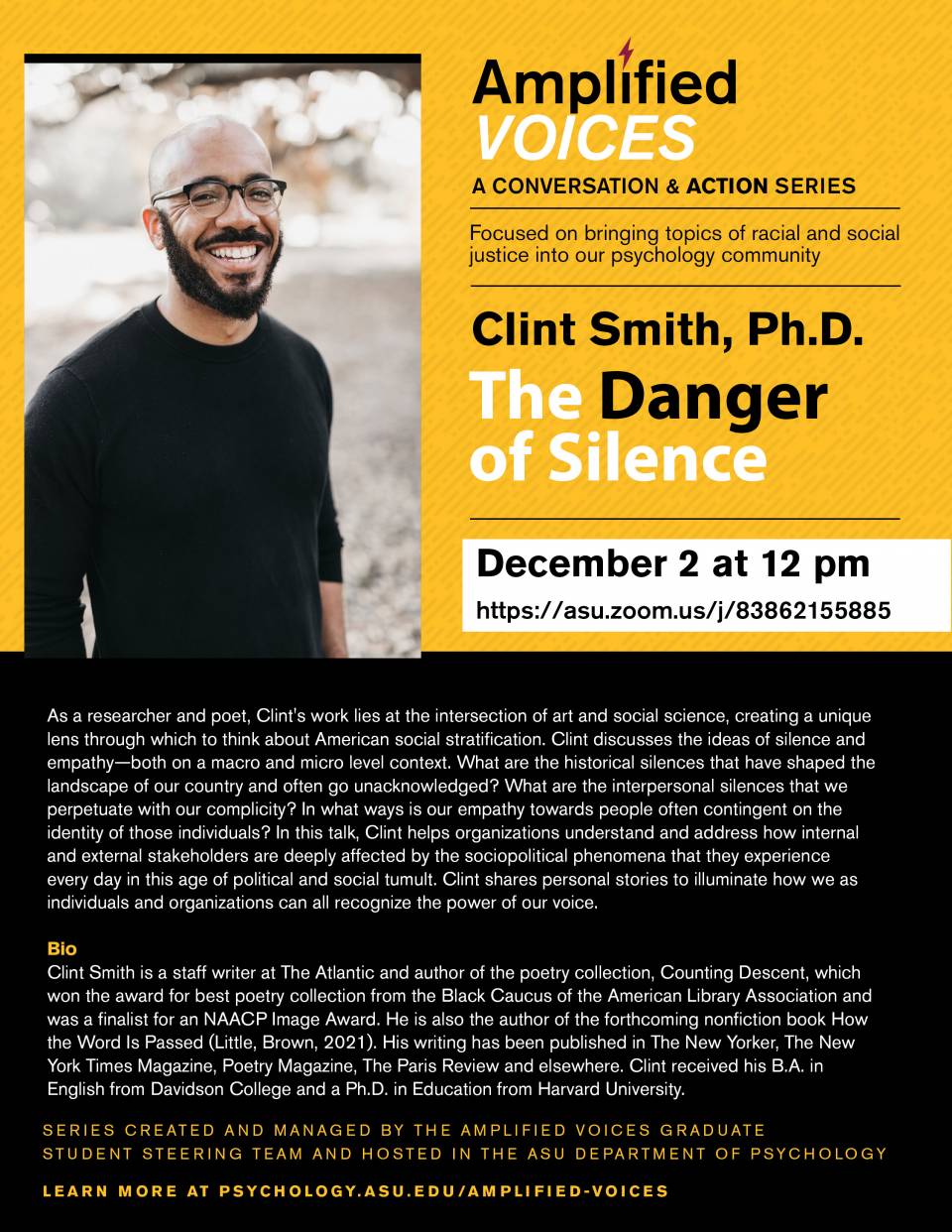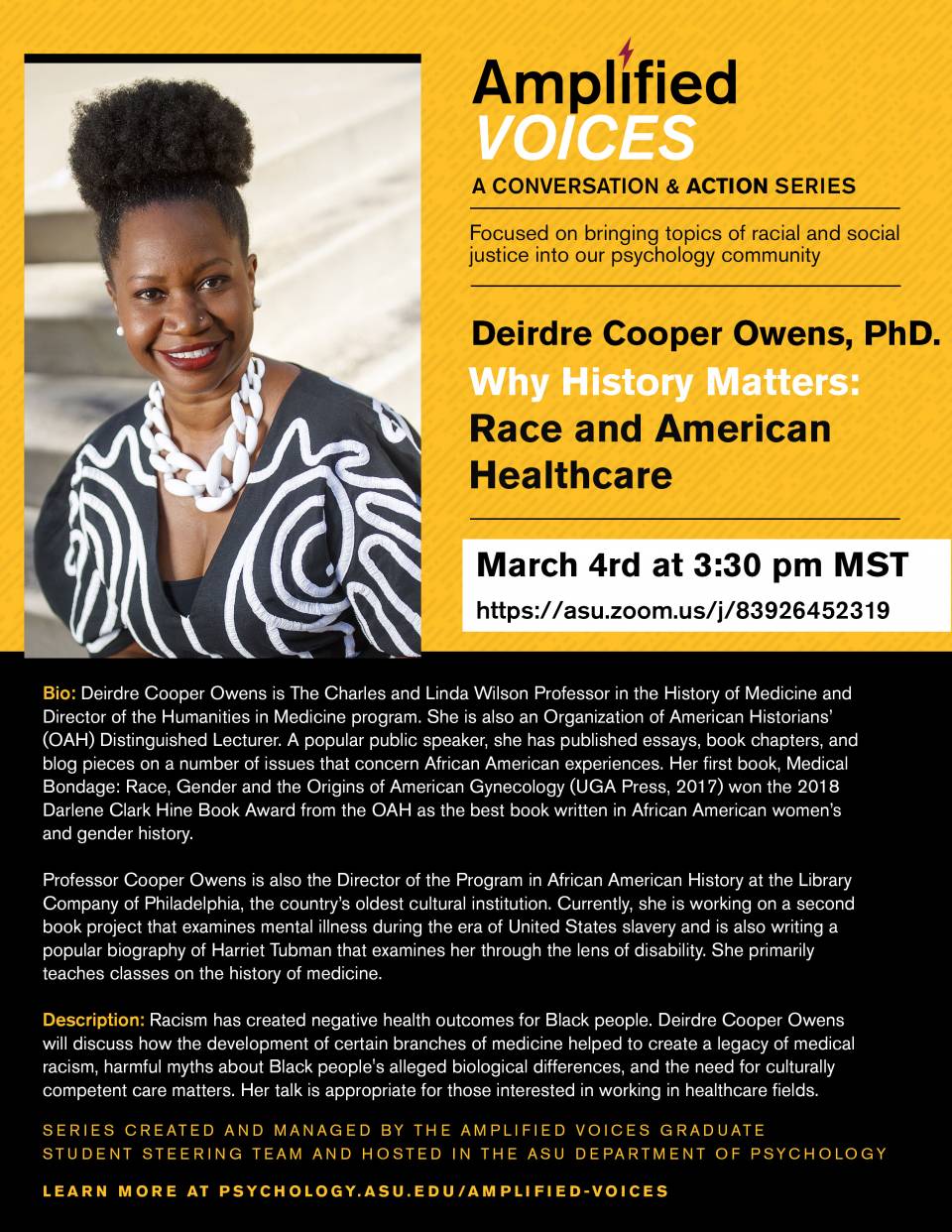 The Danger of Silence
December 2, 2020

As a researcher and poet, Clint's work lies at the intersection of art and social science, creating a unique lens through which to think about American social stratification. Clint discusses the ideas of silence and empathy—both on a macro and micro level context. What are the historical silences that have shaped the landscape of our country and often go unacknowledged? What are the interpersonal silences that we perpetuate with our complicity? In what ways is our empathy towards people often contingent on the identity of those individuals? In this talk, Clint helps organizations understand and address how internal and external stakeholders are deeply affected by the sociopolitical phenomena that they experience every day in this age of political and social tumult. Clint shares personal stories to illuminate how we as individuals and organizations can all recognize the power of our voice.
Bio
Clint Smith is a staff writer at The Atlantic and author of the poetry collection, Counting Descent, which won the award for best poetry collection from the Black Caucus of the American Library Association and was a finalist for an NAACP Image Award. He is also the author of the forthcoming nonfiction book How the Word Is Passed (Little, Brown, 2021). His writing has been published in The New Yorker, The New York Times Magazine, Poetry Magazine, The Paris Review and elsewhere. Clint received his B.A. in English from Davidson College and a Ph.D. in Education from Harvard University.
Calls to action
CTA #1 (Everyone)
Reflect on what stories and histories are included or omitted from our narratives.
Who is included or excluded? What is the impact of this erasure and omission?

CTA #2 (Course Instructors/Educators at All Levels)
Add historical context to your courses.
When you discuss inequities, especially as they relate to health and other psychosocial outcomes, name the practices and policies that have impacted those inequities (e.g., redlining impacting food access, healthcare barriers to quality care, etc.).

CTA #3 (Researchers):
Reframe your work that may be rooted in deficit models
that also tend to pathologize behaviors that are simply different than behaviors based on white norms.
Click here for the Link to Replay of Webinar
CTA #1: Advocate for yourself or select someone you trust to do so.
Within the healthcare field, like many American industries, there is voluminous data on the harmful effects of medical racism on Black patients. To best protect our health, physically and emotionally, I urge us to seek out patient advocates who can work on our behalf and to advocate for treatment needs in other settings such as therapy. https://www.patientadvocate.org/connect-with-services/_

CTA #2: Create representative syllabi (educators) & seek diverse sources (students)
Your syllabi should not replicate outdated, imprecise, and dangerous narratives about racially minoritized people that depict them as pathological. You should include authors who represent this nation's diversity (i.e. women, immigrant, racially minoritized people, authors across the gender and sexual identity spectrum, and those who are disabled). Students should hold their professors accountable for this and seek diverse authors in their independent research.

CTA #3: Share your story
The history of Black people in the United States is tied to a deeply rich oral tradition. Make space to tell your medical stories of both trauma and healing as a way to build and honor community and as an act of resilience when medical providers refuse to honor your experiences and stories. Out of this practice, you can continue to develop compassion towards the restoration and maintenance of better health outcomes.
#Blackintheivroy: Amplifying the Voices of Blackademic Truthtellers About Anti-Black Racism
Feb 3, 2021
Dr. Shardé M. Davis will discuss the concurrent struggles and triumphs of being Black in the Ivory and how Blackademics (faculty and graduate students) can stand in our right as "truth tellers" to talk back and resist the racist systems that have historically oppressed us. When Blackademics tell our truth it has the possibility of empowering us all, yet this empowerment comes with great risk, institutionalized exploitation, and conspicuous consumption of our narratives. The benefits and costs are intricately connected and must be discussed as such. Dr. Davis will also offer personal accounts of how truth telling has unfolded in her life and how she has named, maneuvered, confronted, and resisted the problematic systems that are embedded within the academy. By the end of this talk, Dr. Davis will demonstrate the various ways that racism eats its way through the ivory tower and offer prescriptions about how academic institutions—and its individual members—might make lasting change. As preparation for this event, The Amplified Voices team suggests familiarizing yourself with the conversations on social media under the hashtag #BlackInTheIvory."
Bio
Dr. Shardé M. Davis is an Assistant Professor in the Department of Communication at the University of Connecticut and is the creator of the viral Twitter hashtag, #BlackintheIvory.
Calls to Action:
CTA #1 A Renovation is Overdue
It's time to get serious about uprooting anti-Black racism, anti-Blackness, and white supremacy from the university structure. A critical first step is naming these specific issues and voicing an explicit commitment to enact change within your immediate sphere of influence.
CTA #2 Reflect on Anti-Black Beliefs in One's Personal Life
Before you do anti-racism work in the university, you should turn inward and consider the extent to which you perpetuate these beliefs "at home."
CTA #3 Structural Changes at Departmental, College, and University levels
Quite simply, universities should engage in efforts that support racial equity by setting aside dedicated, institutional resources and dollars for Blackademics only.
CTA #4 Personal MicroBehaviors
There are simple yet impactful behaviors that everyone can employ day to day to begin changing the communication climate.
Steering Team
The Amplified Voices project was conceived and is coordinated by a team of graduate students in the Department of Psychology.
| | | | |
| --- | --- | --- | --- |
| | Beza Bekele, B.A.Second year, clinical | | Juan Hernandez, B.A.Third year, clinical psychology |
| | Skyler Mendes, Ed.M.Third year, developmental psychology | | Felix Muniz, M.A.,Third year, quantitative psychology |
| | Veronica Oro, M.A.Sixth year, developmental psychology | | Vanesa Perez, M.A.Fifth year, clinical psychology |
| | Rana Uhlman, B.A.Second year, clinical psychology | | |