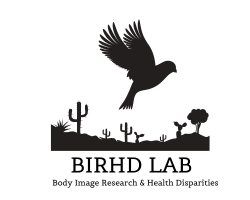 Keywords
Keywords: Body Project; body acceptance; body dissatisfaction; eating disorders; minorities; childhood obesity; prevention; eating
Lab Director
Dr. Marisol Perez
Actively Recruiting Undergraduate Researchers
Yes
Actively Recruiting Graduate Students
Maybe
Current Projects:
Under Dr. Perez's guidance, undergraduate and doctoral students explore the genetic, biological, psychophysiological, cultural, and environmental underpinnings of body image and eating behavior in its development towards unhealthy lifestyles. We continuously translate our basic science research into clinical applications that can improve the health and quality of life of people across the life span.
Trajectories of Health among Low-Income Mexican American Families.
We capitalize on longitudinal data collected by an NIMH and NICHD-funded study of very low income Mexican American mothers and infants (Las Madres Nuevas) that assesses a multitude of cultural and environmental risk and protective factors from the prenatal period through nine years of age. This study, with data drawn from biological measures, anthropometric measures, parent report, medical records, and observational sessions, is ideally situated to answer key questions related to health disparities. It aims to evaluate the consequences of cultural, economic, maternal and child trajectories for emerging physical health and cardiometabolic risk in a sample of over 300 children.
The Prevention of Body Dissatisfaction and Correlates
Childhood
Our past research in children demonstrates that thin-ideal internalization emerges before body dissatisfaction. Further, girls between the ages of 5 to 7 years old role model their mother's body satisfaction and dissatisfaction. We are collaborating with Dove Self Esteem Project to create a curriculum for teachers that builds body confidence in youth ages 9 to 11 years. The Dove Self-Esteem Project aims to build self-esteem and body confidence in youth so that they may reach their full potential. For over a decade, Dove Self Esteem Project has developed and disseminated interventions for girl scouts, middle school, and high school youth. Continuing their line of products and materials, we are working together in developing evidence-based materials for elementary school children that builds self-esteem and body confidence, while reducing weight-based bullying and teasing that reflects the most current knowledge of the science in child development, learning, and mental health prevention.
Adulthood
The Body Project is a cognitive-dissonance based body acceptance program that's designed to help girls and young women resist societal pressures to be unrealistically thin. This program has been heavily tested for over two decades and has been found to reduce thin ideal internalization, body dissatisfaction, and unhealthy behaviors related to eating disorders and obesity. It was developed with undergraduate women, is run by undergraduate women, and is for undergraduate woman. The undergraduate women who run the program are called peer leaders, and undergo extensive training in the program while building essential leadership skills necessary for any career. Between the years 2013 – 2018, over 5000 undergraduate women have participated in the program at ASU. Currently, Dr. Perez is a Master Trainer for the Body Project in conjunction with the Body Project Collaborative and National Eating Disorders Association, to train other mental health professionals and universities in implementing the program.
Adult Minority Health and Mental Health
We recently collected cross-sectional data on a national community sample of ethnic minority adults. We aim to examine the clinical presentation of eating disorder symptoms, body dissatisfaction, and correlates across 2800 Latinx, Black, and Asian American adults. This study will also evaluate the generalizability of theoretical models of eating disorders to ethnic minority individuals.
Lab Director & Principal Investigator:  Dr. Marisol Perez, Associate Professor
Dr. Perez  received her undergraduate degree in Psychology from University of Miami and her doctoral degree in Psychology from Florida State University. Curriculum Vitae.
Doctoral Students:
Juan Carlos Hernandez, B. A. 
Doctoral Graduate Student in Clinical Psychology
Intersectional social determinants of health (e.g., neighborhood and built environment, socioeconomic opportunity) significantly account for disparities in chronic health conditions across class and minority status. Juan's research aims to identify built environmental risk and resiliency factors for chronic health conditions among low-income Mexican American children. Specifically, their research will test the impact food environment (e.g., food desert, food swamp) and exercise environment have in explaining the impact disadvantaged neighborhoods have on children's health. Juan's additional research interests include environmental predictors of mental health among working-class ethnic minority adults and psychosocial predictors of first-generation college student retention. Personal interests include bird watching and Topo Chico.
Kimberly Yu, M.A. 
Doctoral Graduate Student in Clinical Psychology
Kimberly's research interests target the etiology, treatment, and prevention of disordered eating pathology and body dissatisfaction across diverse groups and populations. In particular, she is interested in examining the effects of psychosocial stress, culture, stigma, and minority status on eating-related behaviors. She is also interested in the association between intersectional identity and physical and mental health outcomes, with a specific focus on minority and under-served populations. 
Tara K. Ohrt, M.A.
Doctoral Graduate Student in Clinical Psychology
Tara's research interests aim to address the influence of biological, physiological, psychological, and/or sociological variables on the development, presentation, prevention, and treatment of disordered eating and obesity.  Currently, I am focusing on the mother-child dyad and how children impact the weight status of their parents, a previously unexplored question.  This line of research has significant clinical implications since current childhood obesity interventions that take a family system approach fail to consider how the match or mismatch between parent and child temperament impacts food choice, healthy eating practices, and influences weight status for the family. 
Undergraduate Students
Jenna Stadheim
College-aged women are at an increased risk for the development of subclinical levels of eating disordered symptoms, which have been correlated to lasting deleterious cognitive, physical, and academic effects. The Body Project (TBP) is a universal group-based eating disorder prevention program that targets undergraduate women and challenges thin ideal messages through cognitive dissonance. Jenna's current study is designed to replicate and extend previous findings on the prevalence of the lemming effect within TBP, as well as examine how the lemming effect is related to outcome of treatment at a 3-month follow-up.
 Jamie Josephs
There is very little research indicating whether psychotherapy targeted at eating disorders is as efficacious with Spanish-speaking populations as with their White, western counterparts. Clinicians have to decide to adopt, adapt, or abandon empirically supported treatments with Spanish-speaking populations. Jamie's current study aims to explore clinician satisfaction and adaptation of empirically supported treatments such as CBT, IPT, DBT, from a sample of clinicians from Latin America, Spain, and the United States.
 Anna Von Schell
There is relatively less research on the prevalence rates of disordered eating symptoms among sexual minority undergraduate students compared to heterosexual undergraduate students. Anna's study explores the rates of disordered eating behaviors among 3,411 undergraduate men and women across gender and sexual orientation. 
Select Publications (†† indicates undergraduate student coauthor; † indicates graduate student coauthor)
Yu, K. †, Chan, M. S., & Perez, M. (in press). Clinical treatment and practice recommendations for disordered eating in Asian Americans. Professional Psychology: Research and Practice.
Yu, K. † & Perez, M. (in press). The association between maternal criticism and body dissatisfaction on disordered eating pathology across racial and ethnic groups. Cultural Diversity and Ethnic Minority Psychology.
Zhou, Z. †, Liew, J., & Perez, M. (in press). Parent feeding as mediating mechanisms between child appetitive traits and body mass index. Journal of Applied Developmental Psychology.
Bruening, A. B. †, & Perez, M. (in press). Prevalence rates and norm data from the EDE-Q for ethnic minority college women. Eating Disorders: The Journal of Treatment and Prevention.
Josephs, J. ††, Perez, M., Trujillo, E., & Ramirez, A. L. (in press). Use of cognitive behavioral therapy with Spanish-speaking clients suffering from Eating Disorders. Eating Disorders: The Journal of Treatment and Prevention.
Lin, B. †, Liew, J. & Perez, M. (2019). Measurement of self-regulation in early childhood: Relations between laboratory and performance-based measures of effortful control and executive functioning. Early Childhood Research Quarterly, 47, 1-8.
Perez, M., Ohrt, T. K. †, Bruening, A. B. †, Taylor, A. B., Liew, J., Kroon Van Diest, A. M. W. †, Ungredda, T. † (2018). An evaluation of the reliability and construct validity of child feeding and eating measures across gender, ethnicity, and household food security. BMC Obesity, 5(17). Open access: https://bmcobes.biomedcentral.com/track/pdf/10.1186/s40608-018-0192-6.
Stinson, E. J. ††, Perez, M., Ohrt, T. †, Von Schell, A. †, Bruening, A. † (2018). The association between program credibility, expectancy, and acceptability with baseline pathology and outcome for a body acceptance prevention program. Journal of Clinical Psychology, 74, 2161-2172.
Von Schell, A. ††, Perez, M., Ohrt, T. †, Bruening, A. †, & Stinson, E. †† (2018). An examination of prevalence rates of disordered eating symptoms among sexual minority undergraduate men and women. Psychology of Sexual Orientation and Gender Diversity, 5(3), 352-359.
Bruening, A.B. . †,, Perez, M., & Ohrt, T.K. . †, (2018). Exploring weight control as motivation for illicit stimulant use. Eating Behaviors, 30, 72-75.
Smith, H. ††, Perez, M., Sladek, M. R. †, Becker, C. B., Ohrt, T. K. †, & Bruening, A. B. † (2017). Development and validation of makeup and sexualized clothing questionnaires. Journal of Eating Disorders, 5, 39 . https://doi.org/10.1186/s40337-017-0171-1.
Becker, C.B., Perez, M., Kippela, L.S., Deidrichs, P., Trujillo, E., & Stice. E. (2017). Engaging stakeholder communities as body image prevention partners: The Body Project as a case example. Eating Behaviors, 25, 62-67
We have had a productive and accomplished Spring of 2019!
Kristian Cerna and Jenna Stadheim are graduating with their Bachelors degrees this semester.
Kimberly Yu who successfully defended her Master's Thesis titled "Functional Impairment, Mental Disorder Symptomatology, and Perceived Bias among Racial and Ethnic Minorities in the United States."
Terese Kulangara successfully defended her AP Research Project titled "The Impact of Disordered Eating on Weight Change-related Body Satisfaction." She is a high school senior at Basis of Ahwatukee.
Tara Ohrt won an American Psychological Association Dissertation Award.
Tara Ohrt and Kimberly Yu both won the Dr. Elizabeth Capaldi Phillips Memorial Award for Graduate Research in the Psychology of Eating.
Tara Ohrt won the department Graduate Student Excellence Award.
Jenna Stadheim for won an Undergraduate Senior Honors Thesis Award from the T. Denny Sanford School of Social and Family Dynamics.
Jenna Stadheim successfully defended her Undergraduate Senior Honors Thesis titled "The Lemming Effect as a Mechanism of Individual Change in Group Treatments."
Anna Von Schell for publishing her Undergraduate Senior Honors Thesis titled "Rates of Disordered Eating Behaviors Across Sexual Minority Undergraduate Men and Women" in the journal Psychology of Sexual Orientation and Gender Diversity.