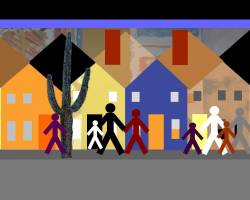 Keywords
Keywords: culture; context; prevention; family; development; children & youth; mental health; achievement; Latino
Lab Director
Nancy Gonzalez, PhD.
Actively Recruiting Undergraduate Researchers
No
Actively Recruiting Graduate Students
No
We study the dynamic role of culture in children's development; academic and psychological well-being; and resilience across the lifespan from birth to young adulthood. We define culture through multiple dimensions and at multiple levels including: ethnicity and national heritage; gender; social class; cultural values; family processes; community context; and the unique experiences that are shaped by these interacting forces.
Our research is especially motivated by our interest and expertise in the growing U.S. Latino population, and the valuable opportunity that our Southwestern borderland offers to conduct research with Mexican Americans.
Our CHALLENGE is to:
Integrate meaningful aspects of culture in research on child, adolescent, and young adult development.
Inform policies and programs that reduce social, academic, and health disparities.
Develop, evaluate, and disseminate programs and practices that work.
OUR PROJECTS
BRIDGES/ PUENTES
The Bridges to High School Program is a family-oriented program for middle school students and their parents. It was designed to increase school engagement and achievement, strengthen family-school linkages, and prevent adolescents' emotional, behavioral and substance abuse problems. Long-term following from a randomized efficacy trial with Mexican American students showed the program increased school engagement and reduced emotional problems, substance use and abuse, and school dropout in high school.
Future Directions: In a new project funded by the National Institute on Drug Abuse we are partnering with schools to redesign the program so it can be delivered in a brief, technology-assisted format. We also plan to conduct a hybrid efficacy-effectiveness trial and examine program effects on the youths' neurobiological self-regulation, school performance, and substance use.
Scientific Team: Nancy Gonzales, Sandy Losoya, Larry Dumka, Nancy Eisenberg, Linda Luecken, Anne Mauricio, Emily Winslow, Jenn Tein
Partners: Cartwright School District, Tempe School District, Phoenix Elementary School District #1
LAS MADRES NUEVAS (LMN)
The major goal of the New Mothers Project is to examine cultural, contextual, and biological factors that impact mother-child coregulatory processes and the emergence of postpartum depression among low-income, first-time, Mexican American mothers.
Future Directions: In a follow-up recently funded by the National Institute of Child Health and Human Development, we will extend data collection to age 6 and examine how parent-child co-regulatory processes influence the emergence of child self-regulation and competencies across the transition to elementary school. In this project, we are particularly interested in understanding how cultural factors shape parenting goals and developmental tasks related to children's emerging self-regulation.
Scientific Team: Linda Luecken, Nancy Gonzales, Keith Crnic, Kathy Lemery, and David MacKinnon
Partners: Maricopa Integrated Health System, Maricopa Medical Center
LA FAMILIA
The Family Project (Proyecto La Familia) is a longitudinal study of mental health disorder and resilience trajectories in sample of 750 Mexican American children and their families. La Familia examines the interplay of cultural and contextual factors and processes that contribute to risk for or protection from mental health problems. The overall goal of this project is to increase our understanding of the mental health disparities of this population as well as identify explanations for the fact that U.S. born Mexican Americans have more mental health problems than Mexican immigrants. Children and their parents were interviewed initially when children were in 5th grade with three follow up interviews occurring when the children were in grades 7, 10 and 12.
Future Directions: In a pending longitudinal follow-up, we will conduct comprehensive assessments of the youths' cultural contexts, adaptive functioning, family and peer relationships, developmental tasks and challenges, and drug and alcohol use across the transition to young adulthood (ages 20-23). We will also genotype the participants to examine multiple types of gene X environment interactions to predict profiles of alcohol and drug use, including gene X culture effects hypothesized to account for the immigrant paradox and Latino health disparities.
Scientific Team: Nancy Gonzales, Kathy Lemery, Leticia Gellhard, George Knight, Jenn Tein, Rebecca White, Graciela Gonzalez
Partners: 44 Schools across Maricopa County, Arizona
LA VIDA DIARIA de Familias en Los Ángeles
In collaboration with Andrew Fuligni and Tom Weisner at UCLA, La Vida is a multi-method, longitudinal study examines the daily experiences of both parents and adolescents from Mexican backgrounds in Los Angeles. The focus is to examine the implications of parents' experiences for the family assistance, activities, psychological well being, and substance use of their adolescents.
Scientific Team: Andrew Fuligni, Nancy Gonzales, Tom Weisner
Partners: Los Angeles County Public High Schools
Lab Director & Principal Investigator:  Nancy Gonzales, PhD, Foundation Professor and Associate Dean of Faculty, College of Liberal Arts & Sciences
Current Graduate Students
Zorash Montano,  Doctoral Student, Clinical Psychology, Department of Psychology
Undergrad Education: University of California, Berkeley
Honors: American Psychological Association Minority Fellowship Program, Martha E. Bernal Award, Minority Health International Research Training Program Fellowship
Likes: running, fitness and nutrition, dogs
Projects: Bridges to High School  | Las Madres Nuevas.  Also Family Check Up | Early Steps (Dr. Tom Dishion)
Research Interests: the impact of family dynamics and parenting on children's mental and physical health; adaptation of family-based interventions for culturally-diverse groups and for real-world settings
Michaeline Jensen, Doctoral Student, Clinical Psychology, Department of Psychology
Undergrad Education: University of Arizona
Honors: ASU's Prevention Research Center NIMH T32 fellowship, 2013-14 fellow of the National Hispanic Science Network's Interdisciplinary Training Institute on Hispanic Drug Abuse, Martha E. Bernal Award
Likes: biking, hiking, cooking
Projects: Proyecto La Familia  |  Bridges to High School  |  Las Madres Nuevas
Research Interests: understanding how cultural and contextual factors transact with individual vulnerabilities to influence the development of adolescent substance use and risk taking behaviors.
Emily Jenchura, Doctoral Student, Clinical Psychology, Department of Psychology
Undergrad Education: University of Richmond
Honors: Fulbright Scholarship (Trinidad & Tobago); National Science Foundation Graduate Research Fellowship
Likes: travel, tap dancing, salsa dancing, rock climbing, hiking the beautiful AZ landscape
Projects: Proyecto La Familia | Las Madres Nuevas
Research Interests: the role of culture in social support, stress physiology, and academic efficacy and persistence among college students
Ryan Stoll, Doctoral Student, Clinical Psychology, Department of Psychology
Undergrad Education: Arizona State University
Likes: cycling, photography, drawing, travel, live music
Projects: Bridges to High School.  Also Child and Family Intervention Program (Dr. Armando Pina).
Research Interests: pinpointing change mechanisms in youth treatment and prevention programs to find ways to strengthen protocols and infrastructures for large-scale dissemination; using visual communication, graphic design, and technology to assist with the development and delivery of next-generation interventions.
Lab Alums - Where are they Now?
Former Doctoral Students:
Jessie Wong, VA Health Services Research and Development Fellow at the Center for Health Policy and the Center for Primary Care and Outcomes Research, Stanford University
Julianna Deardorff, Associate Professor, UC Berkeley, School of Public Health, Community Health and Human Development Division; The New Puberty
Diana Formoso, Assistant Professor, Center for Psychological Studies, Nova Southeastern University
Miguelina German, Assistant Professor, Department of Pediatrics & Department of Psychiatry and Behavioral Sciences Albert Einstein College of Medicine/Montefiore Medical Center, Bronx, NY; Director of Quality, Montefiore Medical Group Integrated Behavioral Health, Bronx, NY; Director of Research, Adolescent Depression & Suicide Program, Montefiore Medical Center, Bronx, NY
Freda Lui,  Assistant Professor, Department of Psychiatry and Behavioral Sciences, University of Washington; Staff Psychologist, Seattle Children's Hospital, Seattle, WA
Former Post-doc Fellows:
Aerika Brittian, Assistant Professor, Department of Educational Psychology, University of Illinois at Chicago
Rick Cruz, Assistant Professor, Department of Psychology, Utah State University; ResearchGate
Su Yeong Kim, Associate Professor, Department of Human Development and Family Sciences, School of Human Ecology, University of Texas at Austin
Darya McClain, Assistant Research Professor, College of Nursing and Health Innovation, Arizona State University
Russell Toomey, Assistant Professor, Department of Human Develoment & Family Studies, Kent State University
Join the Lab!
Prospective doctoral students must meet the minimum qualifications for admittance in the Department of Psychology Graduate Program. Qualities of successful students include the following traits: genuine interest in culture, diversity, and developmental psychopathology; organized and able to meet challenges; strong conceptual and writing skills; able to master advanced statistical methods; and the ability to work with others as well as independently.
Potential postdoctoral trainees can apply for a postdoctoral fellowship in prevention through the ASU REACH Institute.  Trainees gain hands-on experience with the design, implementation, and evaluation of preventive interventions in multiple service delivery settings. Training faculty also have particular expertise in implementation research as well as generative research on risk and resilience, research with ethnic minority families and the development and application of innovative quantitative methods. To apply, contact Dr. Laurie Chassin, Director.
Requirements for undergraduate researchers:
A year minimum before graduation and willing to commit for at least 2 semesters
Highly responsible
Motivated and enthusiastic
Punctual and organized
Can work independently as well as within a group
Prior experience on a research study or work with communities, schools, or families
We are currently accepting new applications for undergraduate research assistants for Fall 2015.  To apply, please email principal investigator Dr. Nancy Gonzales and laboratory manager Sandy Losoya .
Select Publications