EEG Lab (Blais & Brewer)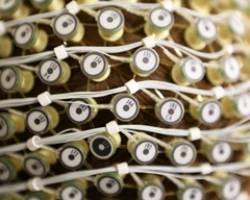 Keywords
Event related potentials; EEG; cognitive neuroscience; social neuroscience; cognitive control; selective attention; memory; SES
Lab Director
Chris Blais, PhD and Gene Brewer, PhD
Actively Recruiting Undergraduate Researchers
Contact Us
Got brains?  We've got connections.
The Department of Psychology's EEG Lab serves as a leading edge resource for improving the quality of neuroimaging research at Arizona State University.  Our role is to facilitate researchers who are interested in collecting physiological data including EEG, eye-tracking, and neural stimulation. Equipment in the EEG lab records electrical activity from the brain while study participants perform a wide-variety of tasks. EEG data can be used to make important inferences about lower-level processes – such as the structure and function of memory, attention, language – to higher-level processes such as empathy and decision making. 
The lab engages in the best research practices and helps protect researchers who are new to high dimensional data acquisition techniques.  We will help you ground your ideas into tractable physiology designs, program your experiment, organize your data collection routine, execute your project, and store and analyze your data.  Furthermore, we will help you interpret your data in terms of your original hypotheses and even assist you in writing technical portions of your work.
Facilities & Equipment
The lab is located on the third floor of SCOB on the ASU Tempe campus and has approximately 800 sq ft of custom built space including three data collection areas and five fully networked Mac/PC workstations linked to RAID and other storage systems totaling over 10TB. Matlab, SPM8, Curry, and other necessary post-processing tools for analyzing EEG data are installed. Office productivity, database, bibliography management, and graphics software are also availabile as well as HP color-laser and laser printers. 
More specifically, the EEG Lab offers the following equipment to ASU and external researchers:
Three Neuroscan EEG systems capable of collecting 32, 64, or 128 channel data
an MRI compatible EGI 256 Channel system
an Eyelink Eye Tracker integrated with the Neuroscan System
a Soterix 4x1 tDCS system
a Virtual Reality System.
Services
The EEG Lab will help researchers develop, program, collect, warehouse, analyze, interpret, and write methods and results sections for grants and papers. Our vision for the center is to facilitate researchers by providing consulting on projects to help guarantee tractable experimental designs and clear analyses a priori.  We also endeavor to provide technical assistance throughout the process of data acquisition, analysis, and submission to journals.
Researchers who use the facility can choose their own level of involvement – you may elect to have laboratory staff manage portions of your work and/or you can choose to be completely immersed with the day-to-day process of data collection. We provide multiple training sessions for undergraduate students, graduate students, postdoctoral fellows, and faculty at Arizona State University.  Users can have physical or virtual access to their data 24 hours a day.
If you are interested in integrating neuroimaging techniques into your research program and would like more information regarding pricing please contact us to get started:  Chris Blais, PhD  or Gene Brewer, PhD.  For a list of past and current EEG Lab users, please visit our Highlights tab.
Lab Directors:  Chris Blais, PhD, Assistant Research Professor and Gene Brewer, PhD, Assistant Professor
Chris Blais, PhD (University of Waterloo) is an Assistant Research Professor in the cognitive science area. He has a broad background in psychology with specific training and expertise in cognitive neuroscience utilizing methods including, but not limited to, fMRI, EEG, computational modeling, and behavioral data. His research focuses on the interactions between implicit memory and cognitive control. He is the author of 18 peer reviewed publications and is a member of the Psychonomic Society and the Cognitive Neuroscience Society. Curriculum Vitae.

 
Gene A. Brewer, Jr, PhD (University of Georgia) is an Assistant Professor of Psychology in the cognitive science area. He was recently identified as a Rising Star in the field of Psychology by the Association for Psychological Science and is a leading expert in the study of memory, cognitive control, and decision making. Dr. Brewer is a consulting editor of the Journal of Experimental Psychology: General and the Journal of Experimental Psychology: Learning, Memory, & Cognition and is the author of 63 peer reviewed publications. His research on culture, religion, and trust is currently supported by the Air Force Office of Scientific Research (Co-Principal Investigator), and he has had research funding from DARPA to examine extremist usage of narrative to influence fence-sitting populations. He is a member of the Psychonomic Society. Curriculum Vitae.
Laboratory Staff
Doctoral Students
Blake Elliott
Ryan Hampton
Aaron Likens 
Undergraduate Research Assistants/Barrett Honors Students
Peter Whitehead
Sania Ahmed
Annette Marino
Brenna Goodwin
Select Publications from the EEG Lab
Blais, C., Hubbard, E. & Mangun, G.R. (in press). ERP evidence for implicit priming of top-down control of attention. Journal of Cognitive Neuroscience
Varnum, M. E. W., Blais, C., & Brewer, G. A. (2016). Social class affects Mu-suppression during action observation. Social Neuroscience, 11, 449-454.
Varnum, M. E. W., Blais, C., Hampton, R. S., & Brewer, G. A. (2015). Social class affects neural empathic responses. Culture and Brain, 3, 122-130.
May 7 2016, 8:30a - 3:00pm, PSY 230. Hosted by the Department of Psychology Cognitive Science program and the EEG Lab, the Oscillatory Brain Dynamics mini-conference will present an incredible group of international speakers at Arizona State University's Tempe Campus including Rasa Gulbinaite, Bradley Voytek, Mike X. Cohen, Emmanuelle Tognoli, and John J.B. Allen.  Read More.
EEG Lab Department of Psychology Faculty Users
Nia Amazeen, PhD, Associate Professor, Cognitive Science
Arthur Glenberg, PhD, Professor and Area Head, Cognitive Science
Samuel McClure, PhD, Associate Professor, Cognitive Science
Michelle Shiota, PhD, Associate Professor, Social Psychology
Michael Varnum, PhD, Assistant Professor, Social Psychology
External Users
Leslie Baxter, PhD. Clinical neuropsychologist at Dignity Health and consultant to Barrow Neurological Institute neurosurgeons for pre-surgery brain mapping. 
Postdoctoral Users
Goekhan Aydogan PhD, Department of Psychology