The HEAT Lab (Hyperactivity, Executive function, and Attention Treatment lab)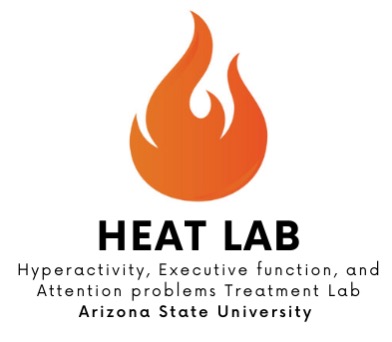 Lab Director
Lauren Friedman
Actively Recruiting Undergraduate Researchers
No
The Hyperactivity, Executive dysfunction, and Attention problems Treatment (HEAT) Lab aims to better understand ADHD to positively impact children and families affected by the disorder. The HEAT Lab has two primary goals: (1) We seek to better understand the underlying neurocognitive deficits, such as executive functions and working memory, that are associated with ADHD to learn how cognitive abilities may impact important daily life skills, (2) We aim to improve existing interventions and develop new treatment approaches based on our understanding of the neurocognitive dysfunction that underlies ADHD.
At the HEAT Lab, we not only contribute to the scientific community, but we also like to give back to the greater Phoenix community. We offer free diagnostic assessment and treatment services for families who participate in our research.
We are currently recruiting parents of children (aged 7-11) with ADHD who also experience ADHD themselves. The goal of this project is to develop a new parenting intervention tailored for families where parents and children are affected by the disorder. As part of the study, you will receive a gold-standard diagnostic evaluation for you and your child, free of charge. You will also participate in a free 8-week evidence-based parenting intervention to learn how to support your child as they navigate his or her diagnosis. If you would like to participate or learn more information about our studies, please contact us using the form on our website, email HEATLab@asu.edu, or call us at (480) 965-0051.
Lauren M. Friedman, Ph.D.
Dr. Lauren Friedman received her Ph.D. in Clinical Psychology from the University of Central Florida. She completed her clinical internship and post-doctoral fellowships at the University of California, San Francisco. Dr. Friedman is an Assistant Professor within the Department of Psychology at ASU, director of the Hyperactivity Executive dysfunction and Attention Problems (HEAT) Lab, and holds a concurrent appointment at the Research and Education Advancing Children's Health (REACH) Institute. Her research centers on understanding the etiology of childhood ADHD to inform interventions for the disorder. She examines the cognitive processes contributing to the core symptoms and functional deficits associated with ADHD through both experimental and meta-analytic techniques. She uses this knowledge to optimize behavioral interventions for youth with ADHD using novel treatment adaptations and approaches.
Gabrielle Fabrikant-Abzug, BA
Gabi Fabrikant is a graduate student in the HEAT Lab. She completed her Bachelor of Arts in psychology at the University of Southern California (USC) and is originally from Denver, Colorado. Before coming to ASU, Gabi worked at the Pediatric Mental Health Institute at Children's Hospital Colorado. Gabi's research interests include examining the relationship between parenting behaviors and children's mental health. Her goal is to improve upon existing interventions to promote positive parent-child relationships and healthy child development for all families. In her free time, she enjoys hiking and spending time with friends.
Lindsay Chromik, MS
Lindsay is a graduate student in the Clinical Psychology Ph.D. program. Her research interests include improving our understanding of ADHD in young children. Prior to joining ASU, Lindsay received her Master's degree in Counseling Psychology. After receiving her Master's, she spent 10 years working as a clinical research coordinator at Stanford University. Outside of research, Lindsay enjoys hiking and baking.
Holly Hunton
Holly Hunton, a third-year, undergraduate student majoring in Psychology (BS) and Neuroscience (BS) at Arizona State University, is a student worker in ASU's HEAT Lab. Currently, Holly's research interests include investigating ADHD in children and adults. Additionally, Holly is actively involved with ASU as the Director of Academics for her sorority, Alpha Omicron Pi. Holly is also a collegiate member of Psi Chi, the Honors Society for Psychology which furthers her passion for psychology research and community outreach. Outside of her student life, Holly enjoys discovering new local coffee shops, travel and practicing yoga with friends.
Ashley Rivard
Ashley Rivard is a fourth-year undergraduate student majoring in Psychology (BS) and minoring in biological sciences. She is currently a research assistant within the HEAT Lab. Ashley is also on the pre-health track and hopes to go to physician assistant school after graduating in the Spring. Ashley became involved in research during her junior year while completing her honors thesis with Dr. Friedman and has been a research aide for the HEAT Lab ever since. Her thesis explores the effects of comorbid anxiety on various aspects of cognitive performance among children diagnosed with ADHD and has been nominated for the Psychology Department award for Best Undergraduate Research Paper. In her free time, Ashley enjoys skiing and gardening.
Research Opportunity Description
We are recruiting ASU undergraduate students who are looking to become involved in research while also helping children and their families thrive. To be eligible, you must meet the following requirements:

Be a current ASU student

Commit a minimum of two semesters to working with us

Contribute approximately 10 hours per week towards our research